About NMC Exteriors & Remodeling
Merry Christmas & Happy New Year From Our Families to Yours!
In business since 1999, NMC Exteriors & Remodeling is a family owned and operated company offering exterior remodeling services to local homes and businesses. From fixing an outdated roof to repairing a family home shattered by a storm, NMC Exteriors & Remodeling has been trusted to work on nearly 1,000 homes and businesses each year across Minnesota. We also understand that a home needs to be more than just attractive. Our staff will walk you through every aspect of home construction, repair, and insurance, ensuring structural integrity, safety, and comfort for your home.
Our customer service and urge to give back to our community are second-to-none, and we guarantee that if you choose us for your home repair project, you will experience The NMC Difference.
About the Owners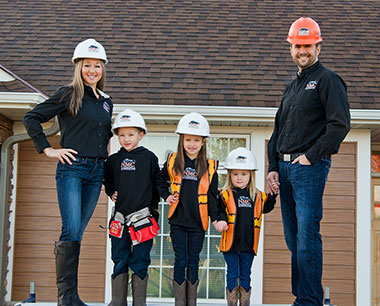 Nick and Molly Mortenson drive NMC Exteriors & Remodeling's success - together!
Husband and wife duo Nick and Molly Mortenson own and operate NMC Exteriors & Remodeling. Nick opened the business in 1999, straight after graduating from high school.
As a general contracting and custom-design expert, Nick launched into crafting siding, roofing, gutters, and windows for his clients. NMC has been growing rapidly ever since, and Nick believes that is due to the high level of customer satisfaction that the company strives for with each and every job.
Molly began working at NMC Exteriors & Remodeling full-time in 2010. She has ample experience in the construction industry, as she previously managed multi-million dollar projects at Life Time Fitness in their building department, FCA Construction, before joining NMC Exteriors & Remodeling. Molly's management skills prompted Nick to ask Molly to join him as partner in 2013.
Outside of work, Nick and Molly enjoy spending time with their three children. They travel to Florida to visit Molly's family whenever possible. Nick also hunts and fishes in his spare time.
Customer Review
By Thomas P.
Cottage Grove, MN

"You did a great job, got it done in the time-frame I needed and kept me well informed throughout the process."

By John
Cottage Grove, MN

"How Chris our rep presented to entire job and how he worked with our insurer. Also how everyone at NMC was very approachable..."

By Jeff G.
Inver Grove Heights, MN

"We chose NMC because of the way Brian handled the initial and later contacts."

By Randy F.
Inver Grove Heights, MN

By Joe G.
Woodbury, MN

"We chose NMC because of their good online reviews"
Our Mission Statement
NMC Exteriors & Remodeling pledges to:
Set higher standards in the construction industry.
Achieve 100% customer satisfaction while providing superior workmanship, quality and using the utmost integrity.
Realizes that customers are the best assets to our business.
Use the foremost techniques and technology to grow effectively.
Have the willingness and open minds to change clients' lives, along with new industry products and standards.
Have a team with vision, quality, honesty, and integrity to keep ourselves ahead and above our competition in the market.
We Give Back
As a family-run business, we believe it is our duty to give back to the communities that let us into their homes. Over nearly 2 decades, we have hosted and donated to several community organizations, including sponsoring breast cancer awareness, blood drives, and responsible recycling.
Recently, in 2014 we hosted a children's event at Children's Hospital and Clinics Minnesota. We are also a Habitat for Humanity Roofer, meaning we have participated in enough projects to be awarded GAF and Habitat for Humanity's "Community Contractor" designation. Be sure to tell us of your community events and how we can further make a difference, and we will do our best to be there for you!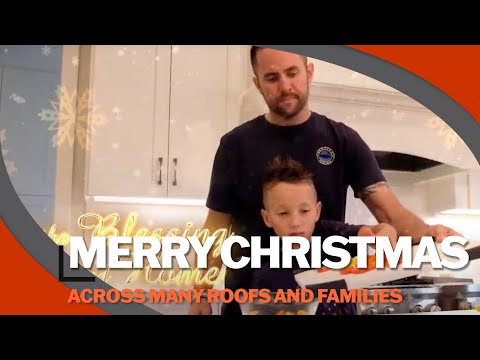 Merry Christmas and Happy New Year from our...
Our Community Outreach
Looking for a price? Get a no cost, no obligation free estimate.