HOA Roof Repair & Replacement Contractor
Working with your HOA to fix your townhouse or condo roof in Minneapolis, St. Paul, Eden Prairie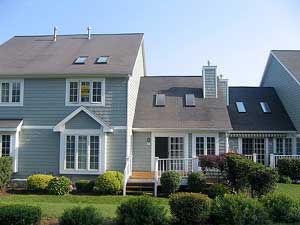 If you live in a neighborhood with a homeowners association (HOA), it's important that you follow guidelines when repairing or replacing your roof or making other improvements to your property. Most HOAs will tell you which type of roofing you can use. From shingle and metal to flat and low-slope roofing, we are experienced in a wide range of roofing materials and styles.
Our company has earned the trust of HOAs throughout Greater Minneapolis & the Twin Cities. We can provide the roof repair or replacement solutions you need while ensuring that all HOA rules are followed.
If you have missing shingles, a roof leak, storm damage or other roofing problems, contact us today to schedule your on-site roof inspection and free cost estimate.
Before and After
Before

After

NMC Exteriors was contracted to replace the 100,000 square foot roof of Senior High Rise Condominims in Hamel, MN after a hail storm badly damaged the shingles. The process for approval with the Insurance companies was lengthy but once final approval was given, NMC Exteriors teams, installed the entire roof in 2 and 1/2 weeks from start to finish!!! #NMCdifference #insuranceclaimrestoration
What to do if you live in an HOA community and your roof needs repair or replacement
Understand the HOA guidelines: The Covenants, Conditions and Restrictions (CC&Rs) should spell out who's responsible for maintenance of your roof and other areas of your townhouse or condo.
Follow the rules: It's important to be aware of the process, deadlines, requirements for roof repairs or a replacement.
Get approval: Major changes to your roof will likely require approval; check with your HOA if you're making minor roofing repairs.
Be patient: HOAs often consist of volunteers and it can take a while to receive approval for your project.
Who is responsible for repairing or replacing the roof?
HOAs typically cover more for condominiums versus townhouses. When you purchase a condo, you own the interior space only, so any repairs to the exterior of the property, including the roof, are the responsibility of the HOA. Purchasing a townhouse is much like purchasing a single-family home, which means you are often responsible for repairs made to the building. If you aren't sure who the responsible party is when it comes to having work done on your property, it's best to have a realtor or lawyer review your HOA agreement.
Following HOA guidelines for roof work
One of the first steps in submitting your roofing project for approval with your HOA is to obtain a copy of the Covenants, Conditions and Restrictions. Every HOA has different guidelines so it's important that you read them carefully. In addition to spelling out who bears responsibility for roofing maintenance, repair and replacement, it can also have specifics on weather and storm-related damage.
Some HOAs also specify style and material restrictions to ensure that the community maintains its aesthetic appeal and value. NMC Exteriors & Remodeling's roofing specialists are experienced in working with a wide variety of roofing materials and can work with you and your HOA to determine the best solution for your home.
Hire a contractor with HOA experience
NMC Exteriors & Remodeling has worked with many HOAs in Minneapolis and throughout Minnesota. Our professional commercial roofing contractors are trained to follow the strictest quality standards. Our in-house crew allows us to manage your project from start to finish. We have the crews and equipment needed to complete your roof repair or replacement job on-time and within budget. Plus, we use only proven materials and products from the best manufacturers in the industry.
If you need roof repairs or a new roof installed on your townhouse or condo in Minneapolis, St. Paul, Eden Prairie, or the surrounding area, contact us today to schedule your on-site inspection and free roof repair or replacement cost estimate!
Looking for a price? Get a no cost, no obligation free estimate.