EPDM - Commercial Low Slope in Minneapolis, Burnsville and nearby Minnesota

Ethylene propylene diene monomer, or EPDM, is an extremely durable synthetic rubber roofing membrane, making it a smart choice for commercial low-slope or flat roofs in any climate. Used for both new construction and replacement projects, the durable, long-lasting EPDM is a proven cost-effective way to protect your building for years.
NMC Exteriors & Remodeling are your local experts for all types of flat roof and low slope roofing for commercial and residential properties. We can provide you with a long lasting EPDM roof repair or roof installation in St. Paul, Minneapolis, Eden Prairie and the nearby areas. Call us today to get a free estimate!
EPDM (ethylene propylene diene monomer) is one of the best flat roofing systems available for residential and commercial purposes.
Reasons to choose EPDM roofing in Greater Minneapolis & the Twin Cities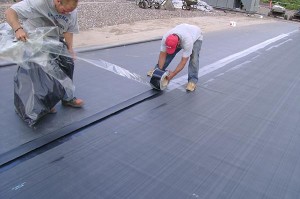 Our roofing professionals provide expert installation and weatherproofing for all our commercial roofing systems.
EPDM roofing offers several great benefits, including:
Low maintenance
Maintains integrity and flexibility
High resistance to heat and fire
Protects against UV damage
Resists scuffs and tears
Easy to patch and repair
Installation: EPDM comes in sheets up to 50 feet wide. It is mechanically anchored with fasteners or ballasted with stone. We also offer a glued-down EPDM rubber membrane system in a 40 mil or 60 mil thickness.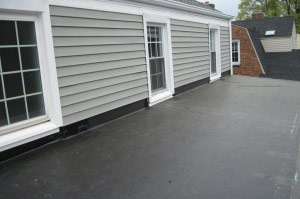 EPDM roofing systems offer a versatile, durable solution for all types of flat and low slope roofs.
Get a quality EPDM roof for your residential or commercial property
If you have a low slope or flat roof on your home or commercial property, call the flat roofing experts at NMC Exteriors & Remodeling today. We provide a variety of commercial roofing systems to ensure that you get exactly what your need for your roof.
Call us today at 1-844-385-7887 to get a free estimate on EPDM roof repair and roof replacement in St. Paul, Minneapolis, Eden Prairie, Anoka, Lakeville, Burnsville, Hopkins, Shakopee, Elk River, Andover and throughout the nearby areas in Minnesota.
Looking for a price? Get a no cost, no obligation free estimate.