Gutter & Downspout Installation in Greater Minneapolis & the Twin Cities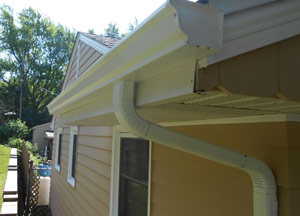 A well-designed, professionally installed gutter and downspout system provide protection against roof damage, soil erosion, and basement flooding.
Protect your home from water damage with a quality gutter system
The right kind of gutters and downspouts are essential for your home's weather protection. By directing roof runoff away from your foundation, gutters and downspouts help prevent problems such as roof damage, flooding, and water damage.
Gutters that frequently clog or are damaged can lead to serious problems, including roof and foundation leaks. At NMC Exteriors & Remodeling, we provide expert gutter installation and gutter repair services, including gutter guards. We can help you get the right solutions to keep your home fully protected from water damage!
Don't wait to replace your gutters: Get a free gutter cost estimate today!
Before and After
Before

After

This client in Minneapolis was fed up with their badly leaking gutters, so they contacted the experts at NMC for an estimate. We provided a close inspection and provided a plan to install new replacements that could keep up with the drainage needs. The gutters featured in this installation are Edco in the Statuary Bronze color.

Before

After

Homeowners in Minneapolis, MN, contacted NMC Exteriors to get an estimate for full gutter replacements to their existing weathered and damaged gutters. NMC Exteriors Project Manager Jake met with the homeowners to go over pricing and options. The homeowners elected to replace the damaged gutters with ACM white gutters and downspouts. This just goes to show, that even updating the smaller exterior items on your home, can really freshen up the look, and add to the curb appeal!

Before

After

Replacement gutters are another specialty of NMC! The featured home in Eden Prairie shows off the clean styling of Edco PVC in white. The color contrast is striking- our design experts can help you make a standout appearance to suit your taste!
If you're interested in new gutters for your home, give us a call today at 1-844-385-7887 to get started! We offer free estimates on all our gutter services in Minneapolis, St. Paul, Eden Prairie and the surrounding areas.
Our gutter services in Minnesota
Gutter installation
Gutter replacement
Aluminum and copper gutters
Gutter guards
Gutter cleaning
Key factors to consider when choosing gutters & downspouts
Older gutters can often be difficult and costly to repair, which is why many homeowners elect to replace their gutters instead. Modern gutters offer a wide variety of options to be considered, which are outlined below:
Custom made. We'll help you get custom designed gutters that perfectly fit your home's needs and style.

Materials. Modern gutters are typically made from aluminum, as aluminum gutters offer a great combination of affordability, durability, and design choice. However, materials such as copper, steel, and even wood are available for gutters as well. These are often used on historical or unique homes.
Color. Aluminum gutters offer the best options for color, as they are factory designed in a wide variety of colors and can be painted any color you want. Wood and steel gutters also offer a variety of finishes to help you get the right look for your home.
Style. K-style gutters typically come in 5-inch and 6-inch sizes. The larger size is usually specified when the roof area being drained is especially large and/or steep. Our gutter experts will help you determine which size is best for your house.
Size. K-style gutters come in 5-in. and 6-in. sizes. The larger size is usually specified when the roof area being drained is especially large and/or steep. An experienced gutter installer will be able to determine which size is best for your house.
Gutter guards. Gutter guards are an increasingly popular addition that provides excellent protection for your home. Also known as gutter screens, these covers prevent anything other than water from entering your gutters, eliminating clogs and cleaning.
Additional drainage options. Depending on the layout of your home and yard, you may need a downspout extension to carry roof runoff away from the house. Many of these simply extend out over the yard or garden, while others consist of buried pipe that drains to a dry well or daylight outlet.
Get the complete gutter services you need for your MN home
Even if you have a trusted, favorite general remodeling contractor, it's best to have your gutters installed by a gutter specialist or a roofing contractor who also installs gutters. Because these specialty contractors install gutters every day, they draw on extensive knowledge and installation experience. They can spot related problems such as damaged flashing or rotted fascia boards that require replacement or damaged flashing. A gutter and downspout specialist will usually get your job done quickly and economically.
In addition to gutter and downspout installation, we also offer gutter cleaning and install gutter guards to keep your gutter system performing as it should.
Contact the roofing and gutter experts at NMC Exteriors & Remodeling by calling 1-844-385-7887 or fill out the online form for a free inspection and gutter cost estimate!