Seamless Gutter Installation Contractor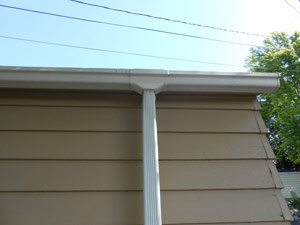 We provide complete gutter installation for a variety of styles and materials.
Upgrade your home with quality gutter and downspout installation in St. Paul, Minneapolis, Eden Prairie
When it's time to replace your gutters, it's important to get the right solution for your home. At NMC Exteriors & Remodeling, we install quality gutters in a variety of materials from industry-leading manufacturers. Our gutters always provide the durability and weather protection you need while ensuring your home has a great finished appearance.
If you're interested in gutter installation for your home, give us a call today at NMC Exteriors & Remodeling or click below to get started. Our gutter experts will evaluate your home and recommend the right solutions for your needs.
Don't wait to protect your home: Get a free gutter installation cost estimate today!
Get a FREE Quote!
Contact us today for a no-obligation estimate for gutter installation in Greater Minneapolis & the Twin Cities!
What you can expect from our gutter services:
Inspection and measurements prior to installation.
Custom gutter solutions, measured to exact specifications.
Strong, seamless, watertight gutters.
Complete clean-up and debris removal.
Gutter protection and gutter systems installed by licensed professionals.
Our gutter installation options in Greater Minneapolis & the Twin Cities
Gutters are available in various sizes and styles, each with their own benefits. NMC Exteriors & Remodeling will help you determine the best options for your home.
Seamless aluminum gutters. Effective and affordable, seamless gutters are a top choice for homeowners. Custom-made to the exact size for your home, they are a long-lasting solution that will never crack, split, or let in water or debris.
Copper gutters. The perfect option for adding style and craftsmanship to your home, copper gutters naturally patina with age and will vary in color depending on climate. They are more expensive and must be installed by a professional because joints and seams must be soldered, but they are also durable and will never rust or need to be painted.
K-style gutters. K-style gutters are typically available in five-inch and six-inch sizes. They can hold more water than rounded gutters and are less likely to bend under heavy force, but they can also be hard to clean.
Half-round gutters. The smoothness of half-round gutters decreases the risk of corrosion and clogs while making the gutters easier to clean. However, they are unable to hold a large amount of water, which can cause gutters to overflow in areas with heavy rainfall.
Gutter guards and gutter screens. Gutter protection can save you time and money, eliminating the stress that comes with clogged, overflowing gutters that can damage your home. Gutter guards are also known as leaf filters, gutter covers, and gutter screens.
Call your local experts for quality gutter installation
If your gutters are leaking, clogging, or damaged, NMC Exteriors & Remodeling is the gutter contractor you need to help. We offer quality rain gutter and downspout services to ensure that you get the weather protection you need for your home.
Our experts will provide you with a quality gutter installation designed to fit your home's specific needs. Call us today at 1-844-385-7887 or contact us online to get started with a free gutter installation cost estimate in Minneapolis, St. Paul, Eden Prairie, Burnsville, Lakeville, Anoka, Andover, Hopkins, Shakopee, Elk River and the surrounding areas.
Looking for a price? Get a no cost, no obligation free estimate.