Cedar Shake Roofing Contractor
The beauty of cedar shake roofing on homes in Minneapolis, St. Paul, Eden Prairie, & Nearby
For homeowners looking for a unique look for their home, cedar shake roofing is a great option. The natural appearance of cedar gives your home a beautiful finish while still providing the quality and durability you need from your roof.
NMC Exteriors & Remodeling are your local experts for cedar shake roof installation and repair in Eden Prairie, St. Paul, Minneapolis, and the nearby areas. If you're interested in a cedar shake roof for your home, give us a call today at 1-844-385-7887 or click below to get a free cedar shake roofing cost estimate!
Before and After
Before

After

This cedar roof in Plymouth was in serious need of help! Our team visited the residence and met with the homeowner, providing an in depth inspection and a custom plan to fix the roof. We applied our expertise and the new roof features Medium Hand Split Cedar Shakes.

Before

After

This Plymouth home had suffered significant storm damage to the existing cedar shingle style roof. Our storm damage experts provided an in-depth inspection and worked with the insurance company to make the process painless and worry free! This installation features Medium Hand Split Cedar Shake. Just look at the transformation!

Before

After

Storm damage strikes fast, and you'll want a trustworthy contractor to assess the damage and work with your insurance company. NMC is the local expert for storm damaged roofs!

This project shows off new cedar shake roof in Plymouth, MN. This particular style is Waldun Bureau Medium with CCA treated 1/2' shake.

Before

After

This gorgeous home was ready for a new roof, and the owner was interested in exploring a wood shingle or shake style option. While beautiful, shakes are a roofing type that requires extra skill. Our pros work make shake style roof work look easy!

The new cedar shake roof features Waldun/Anbrook Bureau Medium style shakes in 1/2" Hand Split Cedar.

Before

After

When storm wreaked havoc on this beautiful Plymouth, MN home, the owner called the experts at NMC Exteriors for help. We replaced the roof with Waldun/Anbrook Bureau Medium Hand Split Cedar shingles, replaced all gutters and downspouts with Edco PVC - Desert Tan color, and replaced two overhead garage doors. The completed project looks stunning!

Before

After

This homeowner in Plymouth, MN was frustrated with their horrific hail damaged roof. Our Project Manager assisted through the insurance claims process and the homeowner received a brand new cedar shake roof!

Before

After

This homeowner was concerned about the damage to their cedar shake roof after a hail storm passed through the area. They knew that cedar shake requires a special skill set to replace and they weren't quite sure how to handle the insurance claims process, so they put their trust in the experts at NMC. As a cedar specialist, we completed this full roof replacement in less than 2 days after getting everything approved by insurance. What a gorgeous Plymouth, MN home!

Before

After

Homeowners in Plymouth, MN reached out to NMC Exteriors when their Cedar Roof was damaged after a massive hailstorm. NMC Exteriors Owner, Nick, met with the Homeowners and their Insurance Adjuster to gain approval for a full Cedar Shake Roof Replacement. The roof turned out beautifully, and is yet another example of the fantastic workmanship of NMC Roofing crews!

Before

After

Homeowners in Plymouth, MN reached out to NMC Exteriors after they experienced hail damage to their cedar roof. NMC Project Manager Brian, met with the homeowners and their Insurance Adjuster to assess the damages. After agreeing that the damage was extensive, the homeowners were approved for a full cedar shake roof replacement. From the beginning to the end of your project, NMC Exteriors Project Managers work for YOU!

Before

After

In Eden Prairie, MN this roof had taken a beating from a recent storm. NMC's team is the local storm damage expert, and we were happy to provide a detailed inspection and identify all the problems. The new roof features Walden 3/4" Heavy Hand Split Cedar, providing an attractive new look and a lasting solution. Cedar shake requires significant skill, so you'll want a reputable and knowledgeable contractor like NMC Exteriors to do the job!

Before

After

This magnificent home in Hopkins, MN needed a new cedar shake roof; the previous installation had become weather checked and was looking rather worse for the wear. After a thorough inspection and a specific plan for this home's needs, we installed Bureau Medium cedar shakes to complete the project. The completed project looks fantastic!

Before

After

These homeowners in Long Lake, MN had a flat roof home with very old cedar shake shingles that were heavily weathered and rotting. While they liked the look the cedar shingles provided they really wanted a product that would be more durable. NMC Exteriors installed beautiful new synthetic shakes that gave the home a refreshed and updated look!
Replacing Cedar Shingles Or Shakes
Some homeowners may attempt to replace an individual cedar shake or cedar shingle themselves or have a friend with roofing knowledge do it, this type of do-it-yourself roof repair could void your roofing warranty. Cedar roofing requires special skill and care during installation. Even if it's just a few shingles, a cedar specialist, like NMC Exteriors, should perform the install.
Here are other key reasons why only cedar roof experts should replace your cedar roofing shingles and shakes:
We know the replacement requirements for your roof design. Even if only one shake is damaged, sometimes the entire row of shakes or shingles needs to be replaced to ensure proper performance.
We know the weak spots for different roof types and how to properly replace the cedar roofing to ensure that fasteners won't fail and lead to roof leaks.
We can recognize if other roofing material is about to fail and replace it as well.
We know how to perform shimming and other roof repair methods according to the style of roof on your home and its condition.
We know the underlying problems to look for that may be causing damage to your cedar shingles or shakes.
We know storm damage from hail, wind, water and fire. How to properly file a claim; meet insurance adjusters, supplement, and final bill insurance companies. To learn more go to our claims guide page.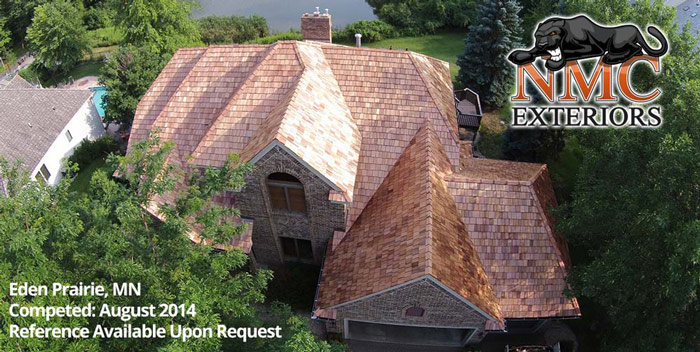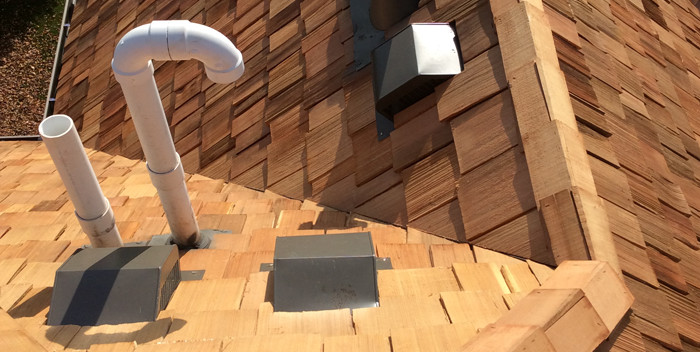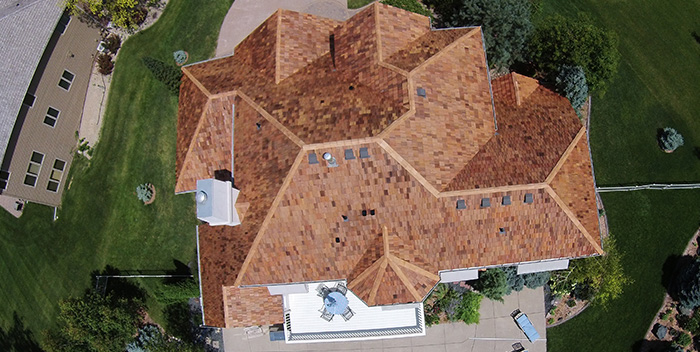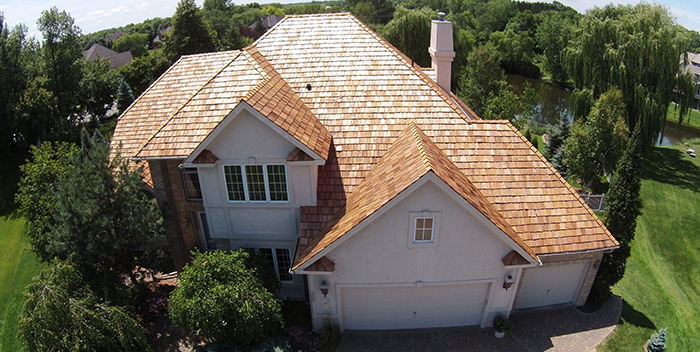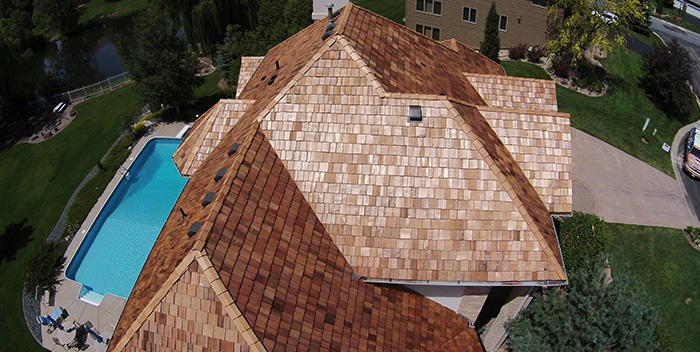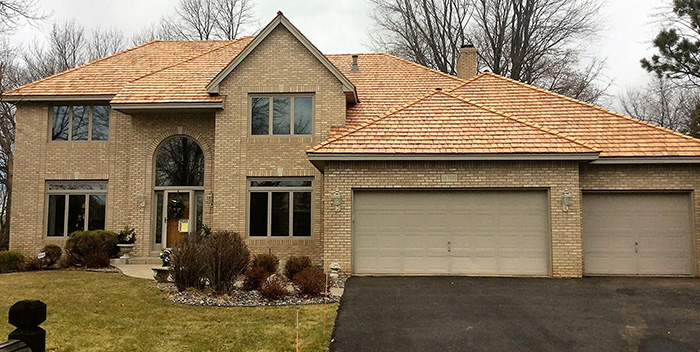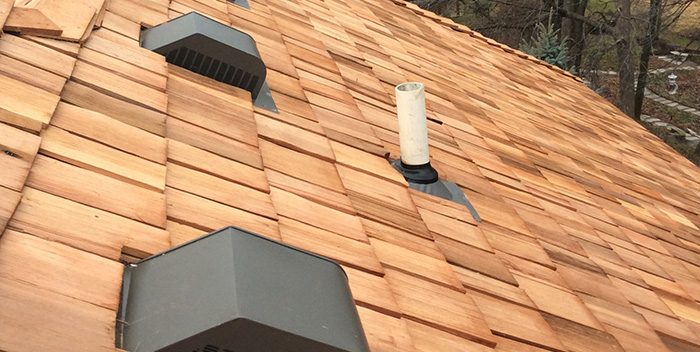 Signs of Cedar Shingles or Shake that NEED replacement
If one or more of the shingles or shakes on your cedar roof are showing any of these signs, it's time to swap them out for new ones.
Splitting - If the split has rounded edges and the interior is a dull orange or grayish color, then it's a result of natural weathering. However, if the split has sharp edges and a light orange color interior, then it's an impact split, probably caused by hail. You should contact your insurance company to see if the replacement is covered under your policy.
Curling or cupping - This occurs when a shingle or shake curls upward or looks distorted. Curling and cupping are part of the cedar wood's natural weathering and aging process. They are signs of wood stress caused by the sun's UV rays and rain. However, if you can see the roofing felt or roof deck, then other problems may exist. If significant cupping or curling appears right after installation, it's a sign of a poor install. That's why it's so important to have a roofing company with expertise in installing cedar roof shingles and shakes, such as the NMC Exteriors, install your cedar roof system. Our precise installation methods ensure a correct install for the style of your roof.
Cracks or splitting - This is a result of the wood expanding and contracting over time from moisture and ensuing drying. Cracks and splits are part of the natural cedar roof aging process. When tiny hairline cracks get larger, cedar shake or shingle replacement is highly recommended.
Fraying - This is caused by bottom edge rot. The decay is often the result of microorganisms, like moss, lichen or algae, that are left untreated. Bottom edge rot is common on homes where the roof receives mostly shade and never dries out completely after a rainfall.
Perhaps the best feature of cedar roofing is its cost-effective replacement of individual cedar shingles and shakes with new ones as needed. This saves on purchasing a completely new roof. Another great benefit of cedar roofs is the visible signs that let you know it's time to replace certain cedar shakes or shingles. Doing so in a timely fashion ensures your cedar roof system will outperform its life expectancy.
Benefits of cedar roofing
Cedar is the only roofing material that can be maintained to prolong its service life.
Cedar offers the highest R-Value (insulation) of any common roofing material, typically 4x that of typical asphalt shingles.
Offers the timeless authenticity of a natural material at a low price relative to other natural materials such as clay or stone.
Offers supreme wind and hail resistance.
Get the natural beauty of cedar shake roofing for your home today
If cedar shake roofing sounds like the right choice for your home, call the experts at NMC Exteriors & Remodeling today. Our cedar shake roofing will give your home a quality appearance that you will enjoy for years to come. Call us today to get a free cost estimate on all our roof replacement services in Minneapolis, St. Paul, Eden Prairie, Lakeville, Burnsville, Andover, Anoka, Shakopee, Elk River, Hopkins, and throughout the nearby areas.
Looking for a price? Get a no cost, no obligation free estimate.