Siding Installation in Plymouth, Maple Grove, Minnetonka & MN
NMC Exteriors & Remodeling is a BBB accredited, licensed and award winning contractor that excels in siding installation, roof replacement, roof repair, commercial roofing, gutters, window installation and many other types of work.
At NMC Exteriors & Remodeling we offer many high quality and affordable siding styles and options that pays for itself through durability & massive energy savings. Make sure to view our very satisfied customers in your local neighborhood by viewing our before and after pictures and customer reviews.
Get a FREE estimate today on a siding installation or any other service by clicking the FREE estimate button below.
Choose the right type of siding for your home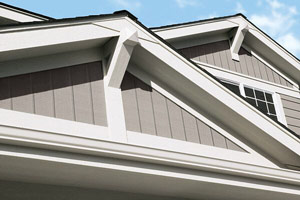 Transform your home. Siding can completely change the look of your home and boost curb appeal and property value.
Vinyl siding: Vinyl siding is the most popular residential siding material, and it offers a number key benefits for homeowners. Vinyl has excellent affordability, durability, and versatility, making it an easy choice for many homeowners. Vinyl is very low maintenance, and you won't have to worry about rotting or scratches. Vinyl is also very easy to clean, and color can usually be restored without much hassle. There are a wide variety of colors and styles to choose from, so you can design just about any look you can think of your home. Even better, vinyl can be made to match the appearance of materials such as cedar shingles.
Fiber cement siding: Fiber cement is made from a mixture of cement, sand, wood fiber, and clay, and is one of the most durable siding materials available. Fiber cement is often used to replicate the appearance of materials such as wood, stone, and stucco. You can easily paint fiber cement any color you choose, though weather exposure will eventually cause it to require re-painting. Fiber cement holds up very well against severe weather, and it is also fire and insect resistant. Though fiber cement is very heavy and can crack, repairs are usually straightforward and involve a compound and touch-up paint.
Steel or metal siding: For durability and longevity, it's hard to beat steel siding. Steel provides excellent weather, dent, and scratch resistance, and it won't be harmed by fire or insects. Steel can be used as a standalone material to create a modern look, or it can be designed to mimic the appearance of materials such as cedar siding. Steel can be on the pricier side to install and doesn't offer as many options as some other materials, but it makes up for these flaws with unmatched durability.
Get a quality siding upgrade for your Minnesota home
At NMC Exteriors & Remodeling, we understand the challenges of finding the right siding material for your home. Our trained professionals will work with you to ensure that you get exactly what you need for your needs and for the appearance that you are looking to achieve.
New siding offers great benefits for your home, so don't wait to call us for an upgrade! We offer free siding installation cost estimates on all our siding installations and other exterior improvement services in St. Paul, Minneapolis, Eden Prairie, Burnsville, Lakeville, Anoka, Andover, Hopkins, Shakopee, Elk River and the surrounding areas.
Looking for a price? Get a no cost, no obligation free estimate.